How to Update Mobile Number in Parivahan in Simple Steps. The Parivahan website offers services relating to vehicles. Your mobile number needs to be registered on the Parivahan website in order to use the services. Therefore, do not worry if you do not know how to update your Parivahan mobile number. We will go over how to update a cellphone number in Parivahan in this article.
Parivahan Sewa
It is a website for the Indian Ministry of Road and Highways (MoRTH). In hundreds of offices across India, it has converted all records to digital format. It has enhanced security and transparency. The major goal is to offer top-notch service to both inhabitants and non-residents of India.
Update Mobile Number in Parivahan
Here is how you can do parivahan mobile number update.
Step 1: To update mobile number in parivahan, User has to Login into  parivahan website and select state.
Step 2: Click on Others and then select mobile number update.
Step 3: Details Required ( License Issue date, DL Number (same as mentioned on DL) & DOB )
Step 4: Insert Mobile Number with reason.
Step 5 : On the registered Mobile Number, you will get an OTP.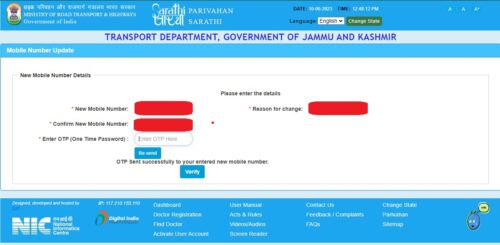 Step : You will get the message of successfully updating mobile number in the Parivahan.